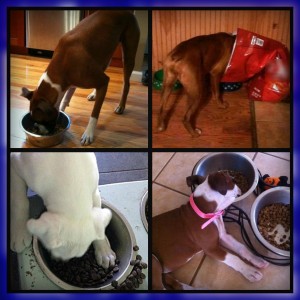 So if your boxers are anything like our boxers, they are finicky when it comes to food.  Our boxers either end up with an allergy flare ups, digestive issues, or become extremely flatulent (stinky butt).  So when we find a dog food that works, we try and stick to it.  Unless it's recalled or makes the pups sick. Recently our boxers became sick (vomiting) which caused them to become dehydrated.  After a few days of feeding them a bland diet there was no change - so, as concerned boxer parents off we went to the veterinarian.  Blood test, fluids, anti-vomiting shots and $668 later, we had no answers.  We knew they did not eat or come into contact with anything other than their food and water.  We researched their food and found it was recalled because of too much Vitamin D.  We checked the blood work the veterinarian had done and the levels were fine.  Still worried, we decided to change their food. The lengthy food search was on.  We first checked the dog food analysis website and clicked the review tab.  We started by clicking "dry dog food - 6 stars".  What we learned from the website was how to read the label of ingredients on dog food packages (see "how to read labels" below).  We then went to the dog food advisor website and compared the list of foods we liked with the list of recalls.  Of course crossing out any dog foods that were recently recalled.  We finally settled on a new dog food and bought a small bag to test it.  Since our pups were on a bland diet (homemade chicken & rice), it was easy to switch them.  We slowly added  1/4 cup of the new food each day.  Two months later, they seem to be doing fine on the new food (thank goodness). Below are 5 steps to choose a good dog food.
Learn how to read the ingredient label on the dog food packages (buycott.com, dog food analysis)
Make a list of dog foods/brands you like
Compare your list to recalled dog foods/brands (dog food advisor website)
Edit your list and research prices online
Test (buy a small bag first and slowly change the food)
How to read labels: In my research I came across a great campaign on buycott.com. Here is what the article said about dog food labels:
"There are three basic standards that any good pet food can follow to be a good food for cats or dogs that can easily help guide you through pet food labels:
There must be a good source of protein and a good source of fat in the first ten ingredients.  This cannot include by-products, soy substitution, or processed meals.
The minimum Crude Fat and the minimum Crude Protein must be at a balanced ratio of 1:2 (or half the fat to protein).  For example if there is 12% crude fat, than there needs to be at least 24% crude protein.
The package must be labeled with "Made in America," or "Made in Canada."  It takes special certification to get this label, in which most of the ingredients come from the US and meet our standards for edible food.  The labels, "Distributed in the US," or "Manufactured..." do not meet this standard, and probably contain unregulated imports."