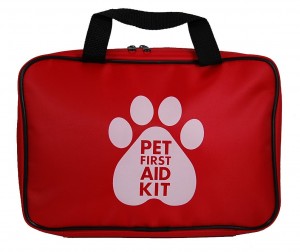 The Pet First Aid Kit is an essential item for the responsible pet owner to keep handy. It can be used from everyday tick removals, insect bites, extra water for a walk in the park and of course, when emergency help is required for your pet. This 50 piece kit, also provides extra room inside so that you can customize it for your pet. Such as, your pet's favorite treats, medications, special vet instructions, etc… All in one convenient soft case. Some of the items in this kit include... a waterproof emergency ID card, a thermal foil emergency blanket, reflective leash, a collapsible food/water bowl, plastic water bottle, plastic pill/vitamin container, alcohol cleansing pads, medicine applicator, fur-friendly vet wrap, tweezers with attached magnifying glass, pet safety guide and more.
50 pieces in an organized soft case with handles
For emergencies and everyday use
Extra room to personalize for your pet
Important pet safety information
Unbeatable value
Great little travel safety kit for the car and road trips etc. Bought one for me and one for a friend. Great gift idea!
These are dependable and work great this product is a must for a 72 hour kit, a lot of people do not think about it but these are a must for them.