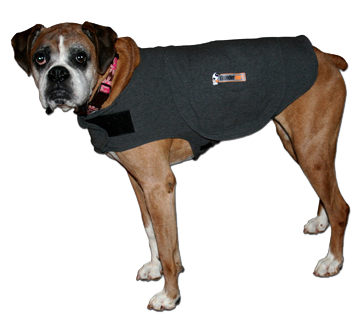 Does your dog go completely bonkers when they sense a thunderstorm approaching?  Is your dog overly anxious when you have guests over the house or there is construction in the area? Dogs with anxiety issues cannot control these feelings and express their anxiety through erratic behavior and/or hiding until the commotion has ended.  This is not good for the well being of the dog and bad for the dog owner mentally. Until recently dog owners could only try to console their fury friends and pray for their dog to finally relax.  To address the very common issue of dog anxiety, the folks over at Thundershirt have created a very cleaver product to calm your dogs nerves.  The shirt works by applying constant, gentle pressure to the dogs midsection which proves effective in 80% of dogs. While the Thundershirt has received rave reviews since its debut in 2011, dog owners must use the shirt properly to receive the full benefit.  We at Daily Boxer recommend the following steps to ensure the Thundershirt really works:
Make sure you get the right size (small, medium, large)
Introduce the shirt to your pet BEFORE they are in an anxious state
Put the Thundershirt on your dog before a storm or other event occurs
If you follow the steps above the Thundeshirt could be the exact solution you have been looking for.  Below are a few testimonials about the product and a news clip showing how the
Thundershirt
works and the final results.
This shirt saved my house! My dog had several issues: separation anxiety, fear of thunder, and panic over any kind of weather change. The worst was the separation anxiety, as this caused him to CHEW UP EVERYTHING IN SIGHT.
I have to admit, I was a bit hesitant when I purchased this product on the recommendation of a friend. Ten minutes after putting it on my dog, I became a believer.
I got the Thundershirt for my dog Rascal - he was a barker and scared of storms. The shirt has an amazing calming effect on him - it is like he is another dog.