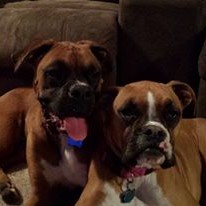 It always pleases me to report on successful rescue stories.
A few months ago Sarah emailed me about Baxter, a friend's 13 month old male boxer that she and her husband decided to help. They started with a trial week to see if he would adjust in their home. They already had an 11 month old female boxer, Chloe. The two boxers got along great, and she reported that Baxter was very sweet and handsome. However, she and her husband were concerned that Baxter had a few accidents in the house.  Sarah explained "We have a dog door and Chloe uses it faithfully to go potty, and Baxter will go, if Chloe goes out too but will rarely go out by himself."  She was trying to decide if Baxter "accidents" were fixable.  She also felt in her heart that Baxter was better off in her home.  Her friends weren't mistreating Baxter, but they had to crate him a lot because he would not use the dog door at all at their house.  After a few weeks, Baxter adjusted and she was happy to report that he was using the doggie door without Chloe.  More recently Sarah reported...
Chloe and Baxter are doing great! I'm so glad we took him in. It's like he just belongs with us! Having two boxers is so much fun. Two wiggle butts to greet you when you walk in the door and double the shenanigans too, lol. Mr. B. definitely loves to eat. Like an entire bunch of bananas, my glasses, cat food, anything that looks edible (or not edible).  I'm pretty sure he doesn't discriminate (lol) but he's just the sweetest little guy and we love them both bunches!
Hence another successful rescue story.  Do you have a rescue story you'd like to share? Email us at 
stories@dailyboxer.com
.  If you enjoyed this article, please share, 'like', Pin, Tweet, and/or repost!