Daisy's rescue began in 2009.  After we fostered, we decided it was time for Rosco to have a permanent friend.  Rescuing was our first choice.  It was a long process, I looked online every day.  Most of the boxers that were posted were either too far for transport or had already been adopted.  It was sad, we wanted to rescue but I was becoming discouraged.  Then the day came, I started making phone calls.  This was the key.  I found her online and called right away.  We drove 4 hours the next day to meet her.
Daisy was an 8 month old boxer.  The first 8 months of her life were what I describe as heartbreakingly sad and lonely.  Daisy was an anniversary gift from a husband to a wife. The husband worked a lot and the wife didn't want a puppy.  Shortly after Daisy's arrival, the wife found out she was 6 months pregnant.  A few months later the baby was born and Daisy was crated, tied to a tree, neglected, and isolated.  Lucky for her, a cousin of the family noticed and convinced the couple to let Daisy live with her. Unfortunately, the cousin lived in a small apartment and knew she couldn't keep her for long.  Daisy ended up for adoption shortly afterwards.   When we went to meet her, she was among 15 small dogs, all less than 15 pounds.  She was only 30 pounds, very skinny but wiggling away.  We took her for a walk and in a very short amount of time realized she was the sweetest loveable puppy we'd ever met, despite everything she had gone through .  She was so appreciative of the attention and love we gave her, and she is even now after all this time.  She always wants to be as physically as close as possible (literally) and climbs on your lap. She yells or "woo-woo's" at you when you say anything with a negative tone.  She definitely keeps our house positive.  And everyone who meets her, loves her.
After we had Daisy for 2 years, my son was born. When we brought him home, she hid downstairs when the baby cried and separated from the family.  It broke my heart that she probably was remembering back to when the other family had the baby and made her go away.  So, we constantly went to find her and brought her back to sit with us.  About 3 weeks after the baby was born she became the "mommy" of the house.  She wouldn't leave the baby's side and woke with me at night to feed the baby.  It was truly amazing to me what a sweet loving soul she was and still is.    Now, when my toddler plays rough with my other boxer, Daisy keeps them both in line and yells (woo-woo's) for me when she doesn't like what is going on.  She has formed such a strong bond with everybody in our house.  I truly don't know what life would be like without her.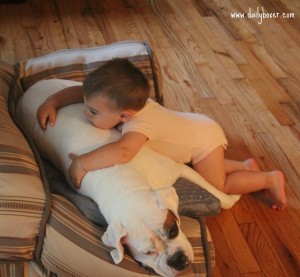 Daisy's story is a rescue success.  She has a fur-best friend and a very loving family.  I often wonder how resilient rescue dogs are and how a little bit of love can go a long way.  Rescuing her didn't change the world, but it changed her world and our world forever.
Email your rescue stories to stories@dailyboxer.com