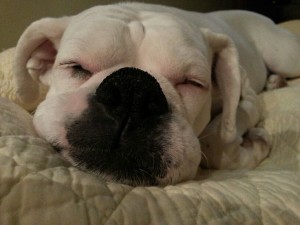 Kevin McArthur writes:
Harlow came to us two years ago from Winnipeg Boxer Rescue who we had contacted and offered to foster so that she could be rescued from a bad situation and be placed until a permanent home could be found. We were very new to all this and we had yet to have a pet into our home. When Harlow arrived we learned very quickly that we would become foster failures and adopt her as our own. Harlow, from day one was this most loving gentle dog who rarely barked and would greet people of all ages with nothing more than a sniff of the hand and a hip thrown into you so you can please her with a gentle pat.

Because of that gentle side I got her registered with St John Ambulance to be a Therapy Dog.  She was certified in July 2013 and has been visiting a nursing home once, sometimes twice a week since August. She then got certified again in October to work with children.  Harlow now goes every second week to work with these kids at a school that has a special and most wonderful program for teaching the students. She has such excitement in her when I put her white scarf on, and the boxer wiggle is earth shattering. She enjoys very much making her weekly visits to what we like to call them "her peeps". Through St John Ambulance she has also been providing comfort for stressed out University students, folks who need a four legged friends to hold onto as they get their flew shot at the flu clinics and she also was able to take part in the Santa Claus parade.

Harlow is also registered with the Canadian Animal Blood Bank and makes donations every three months. As special as Harlow is would there be any doubt that she turned out to be type 0, which is universal and she can donate to any dog of any type. Harlow has a pretty active life now, with her visits to nursing homes weekly as well as visits to her little peeps at the school.  She enjoys every day and every minute. There is nowhere we go where we don't include Harlow and her brother Jazz. She became part of the family and we make sure she is. When we got Harlow two years ago we knew nothing about her. Her age has been estimated at around 7 years, but not 100%. So we enjoy each day with her and make sure she enjoys every day as well and we hope, and hope we have lots of those days left. Thanks for sharing Harlow. I can only say, wow when it rains it pours. Harlow's picture was just featured in our local newspaper yesterday in regards to pet therapy for university students. So, I'm more than happy to share her story again.
I believe that Harlow is a true celebrity who has given back to the community.  This is a heartwarming story is just another example of how integrated our boxers become in our lives and lives of those around us. The Daily Boxer would like to send a special "thank you" to Kevin McArthur and his family for sharing Harlow's story and pictures. Now it's your turn, would you consider having your boxer registered as a therapy dog? Email us your thoughts: stories@dailyboxer.com.