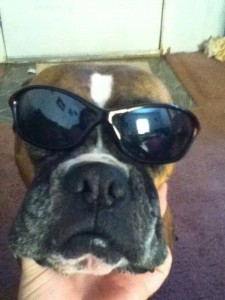 Lilly's Story: Retold by Jessica Malcolm
This is Lilly. She was abandoned when she was younger. She was on a chain maybe 2ft long. No food. Beer cans all around her. When I saw her I couldn't tell if I was saving her or she was saving me. A few years go by and my mom passed away (I was 10 years old). Lilly was there for me through it all. She was my only friend. She was sweet and kind to everyone. After my mom passed; my dad, my sister, Lilly, and I moved closer to my aunt. My aunt took care of us the best she knew how. Even being in a new city, people still didn't like me. I never knew why. But Lilly was there for me.  She was always right by my side. She wasn't even considered a dog to me but family, a friend. After we moved to where we are now. My grandpa died...and a few months later my grandma died too. It wasn't a good year for us. But like I said Lilly was always there. She made the pain easier.

Last year Lilly was 15 years old with a tumor. She died in my arms as I held her paw (pictured above).  It felt like she took a piece of my heart with her. I still just cry and cry. I know she's happy. I thank God for the good memories we had, even if they came along with the bad ones. Lilly's death triggered something in me, it made me realize that this... is life. You're going to die. But Lilly taught me no matter how bad your past is, keep moving forward.  I'm 16 now. I have friends. And I have another boxer, his name is Chopper and he's almost 2.  He's living Lilly's memories every day. I'm so blessed to have had Lilly in my life.  Now I have 4 Guardian Angels watching over me. Rock in paradise Lilly. And now you have heard the story of Lilly.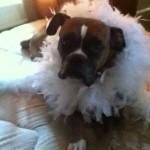 Thank you for sharing your beautiful story of Lilly.  Sometimes angels come in many forms.  Often times, our boxers are there for us when no one else is which is why our bonds with them are so strong.  Many wiggles and kisses to you, your family, and Chopper!
If you would like to submit you story, please email it to stories@dailyboxer.com  !